Beijing, CHINA, August 11, 2022 - Xiaomi today revealed its advanced foldable flagship smartphone, Xiaomi MIX Fold 2, at a new product launch event in Mainland China, alongside the highly-anticipated annual speech of Lei Jun, Founder, Chairman, and CEO of Xiaomi.
Xiaomi MIX Fold 2 is a giant technological leap in the ultra-slim foldable smartphone space. Measuring just 5.4mm¹ unfolded, Xiaomi MIX Fold 2 offers a consistent viewing experience on both its inner and outer displays. Additionally, it delivers an authentic Leica imagery experience and outstanding power efficiency with the latest Snapdragon 8+ Gen 1 mobile platform.
In addition to Xiaomi MIX Fold 2, Xiaomi also announced Xiaomi Pad 5 Pro, Redmi K50 Ultra, and a host of ecosystem products.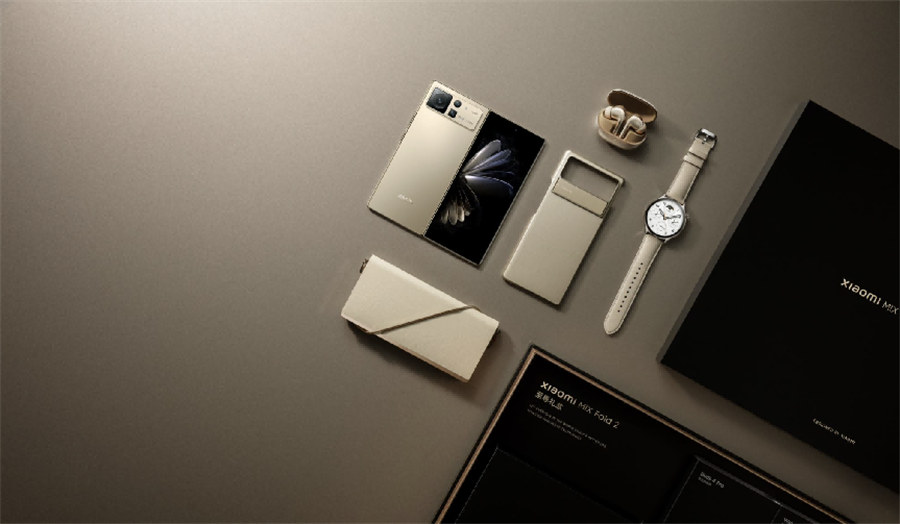 Self-developed Micro Waterdrop Hinge
Xiaomi MIX Fold 2 boasts a revolutionary design. It is one of the thinnest foldable smartphones on the market with a folded body just 11.2mm¹ thin—significantly slimmer than many other foldable devices. Both edges measure just only 5.4mm¹ unfolded, offering a pleasant in-hand feel experience.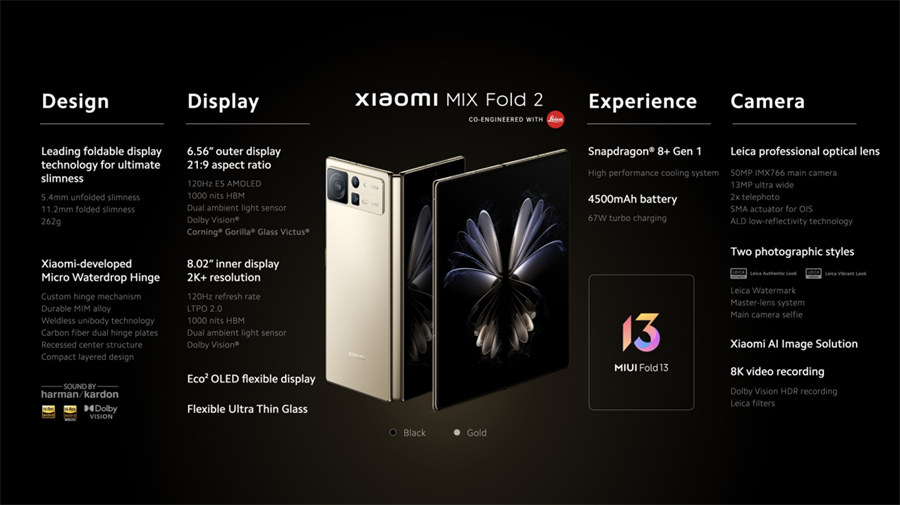 Authentic Leica Imagery, dual-quality approach
Xiaomi has set a new imaging standard for smartphone photography, combining Leica's imagery expertise with Xiaomi's rich experience in the field of computational photography.
In addition, Xiaomi also launched today: Xiaomi Buds 4 Pro, Xiaomi Watch S1 Pro, Xiaomi Conference Tapcast, Xiaomi Bluetooth Speakerphone, Mijia Smart Purifying Range Hood P1, and Mijia Dual-Drum Washer Dryer 15kg.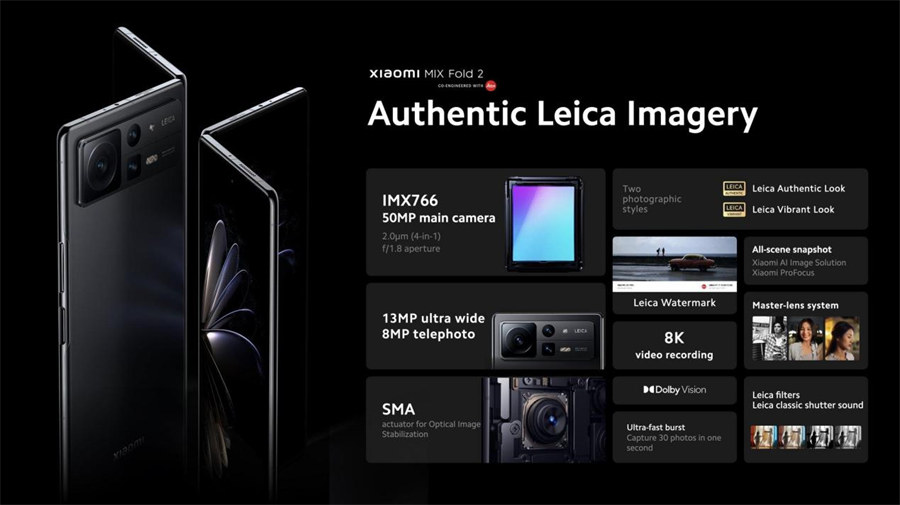 Xiaomi Group officially revealed the development status of Xiaomi Pilot Technology today, in the first R&D and staffing update since announcing its entry into the smart electric vehicle segment in March 2021, 500 days ago. Xiaomi plans to invest RMB 3.3 billion in the first R&D phase of its autonomous driving technology, and has established a sizable R&D team of more than 500 world-class professionals. A series of valuable acquisitions and strategic investments in upstream and downstream enterprises have also allowed Xiaomi to steadily build out its mid-to-long-term industrial capabilities in the field of autonomous driving.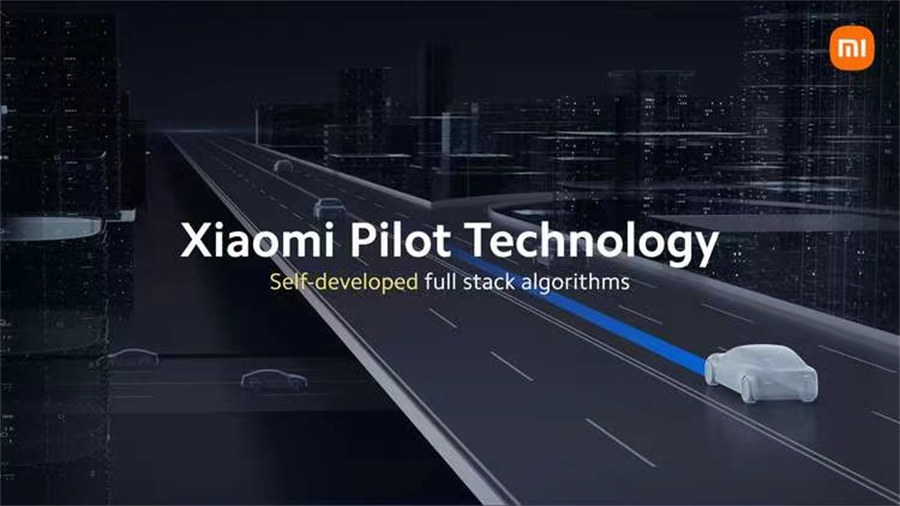 During today's press conference, Xiaomi also released a live road test video of its autonomous driving technology, demonstrating its advanced algorithms and capability to handle a comprehensive list of scenarios."Xiaomi's autonomous driving technology adopts a self-developed full stack approach, and the project has made progress beyond expectations," said Lei Jun, founder, chairman and CEO of Xiaomi Group.
First R&D phase investment planned at RMB 3.3 billion, talent recruiting, and industry-wide deployment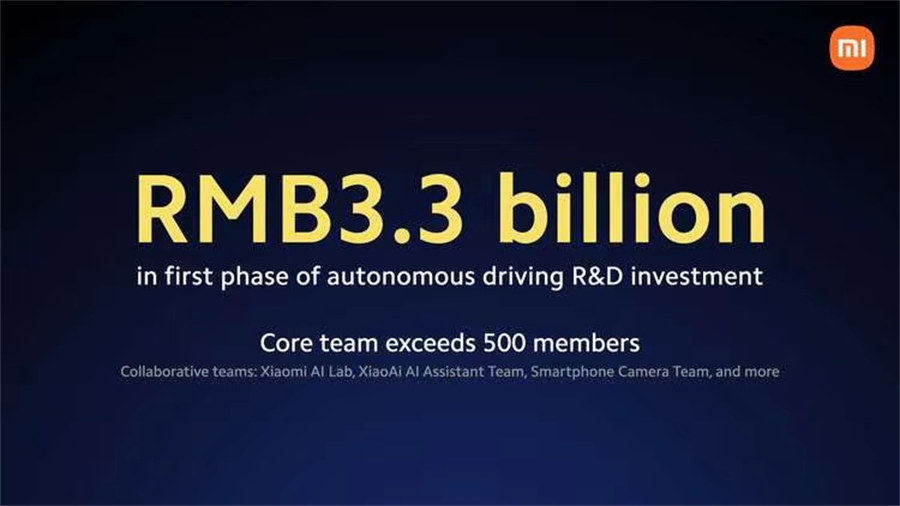 Xiaomi has wholly acquired autonomous driving startup Shendong Technology, in order to enhance its autonomous driving technological expertise and talent pool. In addition, Xiaomi is also committed to building its mid-to-long-term strategic industrial capabilities by investing RMB2 billion in more than ten upstream and downstream enterprises in the autonomous driving field. These enterprises cover a variety of categories, such as core sensors, core actuators, domain controllers, and more.
Self-developed algorithm, aiming to become an industry leader in the smart EV industry in 2024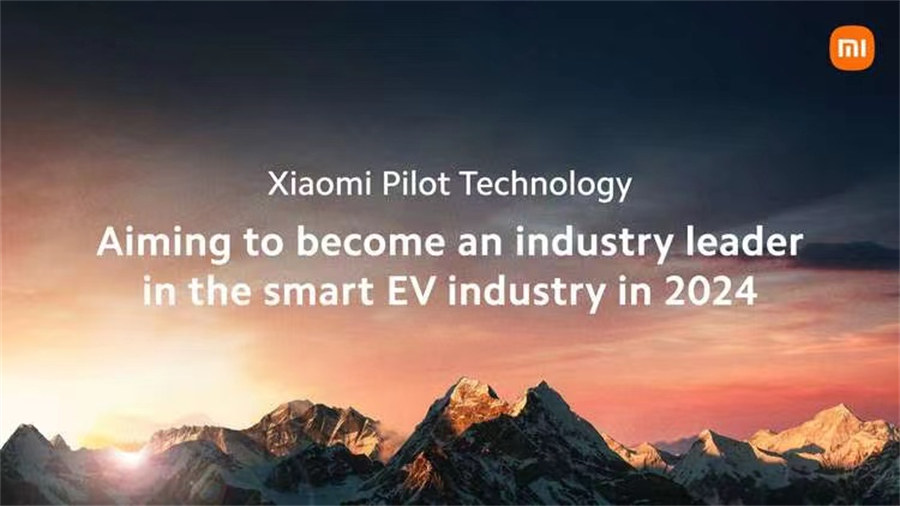 Xiaomi adopts a self-developed full stack approach to autonomous driving technology, covering all core areas, such as hardware and software development, perception and positioning, and focuses on full-scale proprietary solutions to enable complete closed-loop data capabilities. This approach allows autonomous driving algorithms to be quickly iterated based on user needs.
Lei Jun also mentioned that Xiaomi plans to create a fleet of 140 test vehicles in the first phase of its autonomous driving technology development. They will be tested individually nationwide, with an aim of becoming an industry leader in the smart EV industry in 2024.
In just over a year, Xiaomi's autonomous driving technology has achieved a real 0 to 1 breakthrough, and has become a new force attracting considerable attention in the industry.
New self-developed breakthroughs in Xiaomi Technology Ecosphere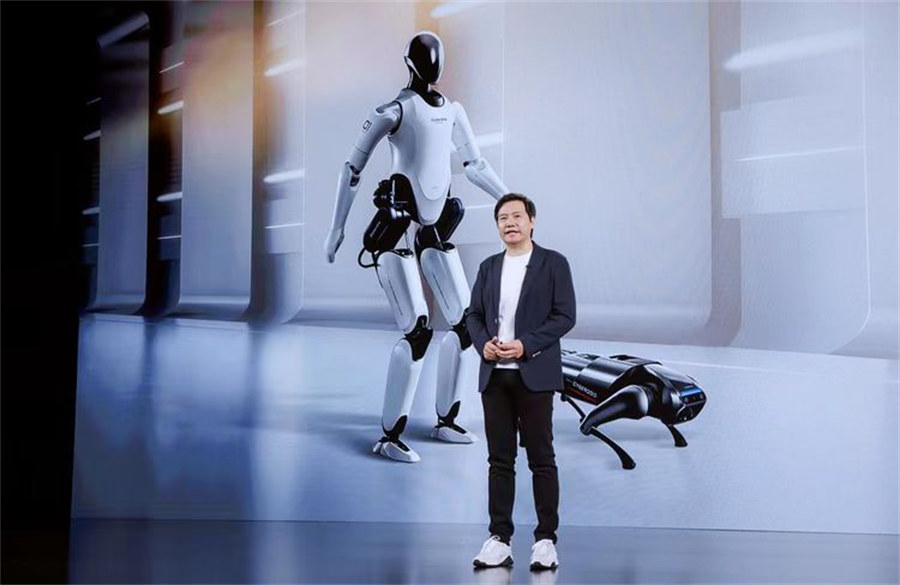 "CyberOne's AI and mechanical capabilities are all self-developed by Xiaomi Robotics Lab. We have invested heavily in R&D spanning various areas, including software, hardware, and algorithms innovation," says Lei Jun, Founder, Chairman, and CEO of Xiaomi Group.
"With AI at its core and a full-size humanoid frame as its vessel, this is an exploration of possibilities of Xiaomi's future technological ecosystem and a new breakthrough for the company."
Robotics is considered the "crown jewel of manufacturing" with humanoid robots being the ultimate goal for many across the industry. Compared with industrial robots that are valued for their specialized mechanical capabilities, the main challenge in building humanoid robots is to perfectly simulate human processes of perception, cognition, decision-making, and execution under various scenarios. Interestingly, a large number of new technologies that have emerged in the process of trying to solve this challenge have already been serving the general public in positive ways.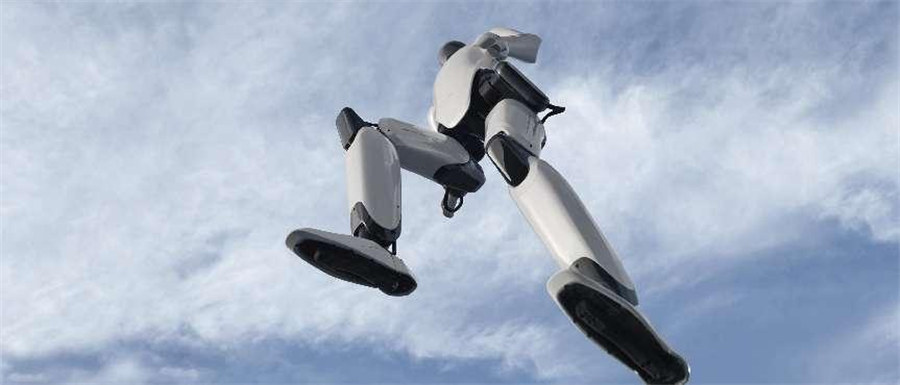 Lei Jun notes that humanoid bionic robots require the highest degree of technical integration and present the largest challenge in the field of intelligent robotics. Xiaomi is making its first steps in the field, and CyberOne is constantly adding new capabilities. "We think that intelligent robots will definitely be a part of people's lives in the future," said Lei Jun.